About Us




Who are we?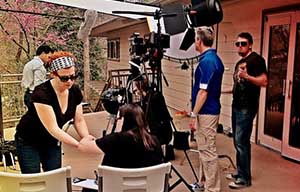 Imagine Film Company is a commercial, tv, film, and video production company based in Fayetteville, AR.
Over the past ten years we've been building up a reputation as one of the top video production companies in Arkansas and we've worked with hundreds of large and small businesses in Arkansas and surrounding states. As a full service production company, we hire specific crew members, DP's and sound engineers to ensure efficient budgets and the absolute best people in the area, regardless if they work for other production companies.
What do we do?
Imagine Film Company can take your idea, at whatever level or budget and do all the planning, shooting and editing to your exact specifications.
Where are we located?
We are located in downtown Fayetteville, Arkansas and we shoot all over Northwest Arkansas, Rogers, Bentonville, Ft Smith and Little Rock. We frequently travel with small crews in the U.S. for our clients.
Why we're different?
Audio/Lenses:
With a creative and experienced Director, DP and crew, we take modern cameras and lens combinations and extensive technical knowledge and real world experience to create videos with style and entertainment value.
Although we can use any specific cameras for particular productions (RED, Sony, Canon, Panasonic, etc.) we generally use Pro Sony 35mm Digital in 4k raw or Pro Res or down-sampled 4K to 2K Pro Res.
Professional Color Correction and HD formats:
We typically shoot 4k RAW using pro SONY cameras, but we have experience with RED, ARRI, NIKON, CANON CINEMA and DSLR.
Some of our clients:
| | | |
| --- | --- | --- |
| Wal Mart | TCBY | National Geographic |
| Best Buy | Onepak | Arkansas Tourism Dept |
| Care ATC | Vizio | Jameson Whiskey |
| I Heart Radio | Junk Brands | University of Arkansas Fort Smith |
| Cobb Vantress | US Health Record | University of Arkansas Fayetteville |
| Sams Club | Saachi & Saachi | Tysons |
| Beats By Dre | R/GA | Portfolio Luxury Real Estate |
Client Feedback:
We love it and are so grateful to you guys for creating such a wonderful collection! Thanks again for everything,
-Ashley Salmons
Video is great, fantastic job. Just what I was wanting. Thanks again.
-Jeremy Hedges
By the way, some of the people I met during the campaign were from a production company, Imagine Film Company. We had great comments on our TV commercials and that stems not only from the image we projected, but how they were able to capture it. We had very little money to work with, but they put together a very good production for the budget. They were understanding, easy to work with and real pro's.
-Mike Landry
Last I checked the video was at over 121k views...not bad I guess for our debut music video. You did an awesome job...people loved your work.
Hopefully, we'll do another video soon
aight...catch ya later//
-------------
Arnie B
Rhythm Mandir
We got the videos! We love love what you captured and how you pieced it all together. Thank you for all your work. We are so excited. I will definitely be sharing your name everyone! Thanks so much, -Rachel Nutt Well…At this point we were married back in October and I am still getting compliments on our wedding photos and it is the middle of February! What you need to know is that Rebecca and I wrestled back and forth on what was more important…Video…or photo?...Our budget was just not that forgiving and we mentioned this to Aaron during one of our phone calls to him…and so he comes up with a possible solution…but we would have to be his first. You know, a "guinea pig" of sorts! ….and we were the guinea pigs that won the mega millions by handing it all over to Imagine Film Company! Seeing that Aaron uses cutting edge equipment in videography, he went above and beyond for our wedding and was able to meet both of our needs for professional quality photography and videography. So, not only can Aaron think quick on his toes, his solutions end with incredible results….and not too forget that he was courteous, fun, and friendly to work with…the entire time! My wife and I are so blessed to have such an awesome video and superb photographs to remember such an incredible day for the rest of our lives!...We would not have changed a single thing about the results of our day….10/10/10 at 10:10am….many blessings to the future of Imagine Film Company from the Hills!
-Rucker Hill
I love the video!!! Thank you so much! The entire thing was amazing! I would love for you to put it on the web for me to share with my family/friends!!! :)
Thanks!
-LeAnna
We just wanted to let you know how much we loved the video! You
did an amazing job. I am so glad we will be able to remember the
day. Thanks again for everything!
-Brittany and Seth

The video is great. We are so happy that we used Imagine Film Company. We will highly recommend you to family and friends. Take care and thanks again.
-Kathy Alexander
HEY!!
How's our favorite videographers doing?!
Can't believe it's already been nearly 3yrs since our big day! All is great on this front…we still watch our videos often (now with kiddos Hayley 8, and Olivia 1.5yrs)!
-Tom Hauge
"Imagine Film Company did an excellent job filming our wedding festivities. Aaron and the crew were extremely professional during all events, and after extensive research searching for a videographer, I noticed that they are also unbeatable in price when it comes to comparable services. Further, they had our footage to us in much less time than what I have seen and heard from other people's experiences. Most importantly, we were amazed when we watched their workmanship, the first time and every tear-filled time since! They put so much time and effort into making your big day memorable, and since it is a day that goes by too quickly and is blurry in the minds of most brides (and grooms!), that time and effort is invaluable. I am so thankful to Aaron and Imagine Film Company for doing a beautiful job of capturing the moments of the most important day of our lives."
-Emily and Jonathan McIllwain

WOW !! What a great job you did. You exceeded our expectation. Your attention to detail and professionalism is absolutely incredible. Thank you!
If you ever need anything from us, please let us know.
Thanks again...everyone is really happy with what you have delivered.
-Kevin Alexander
We just finished watching thewedding video on bluray...

(pause)

We are seriously SPEECHLESS. Absolutely the best and we couldn't even imagine anything like it!!! We cried, laughed, kissed and all I could think about is how special this will be for us to watch FOREVER... Someday my kids and their kids will know us intimately and the various people who's words you caught on video... Thank you from the bottom of our hearts!
-Ryan and Carrie
CALL FOR A FREE QUOTE OR QUESTIONS!
Phone: 479-466-1252